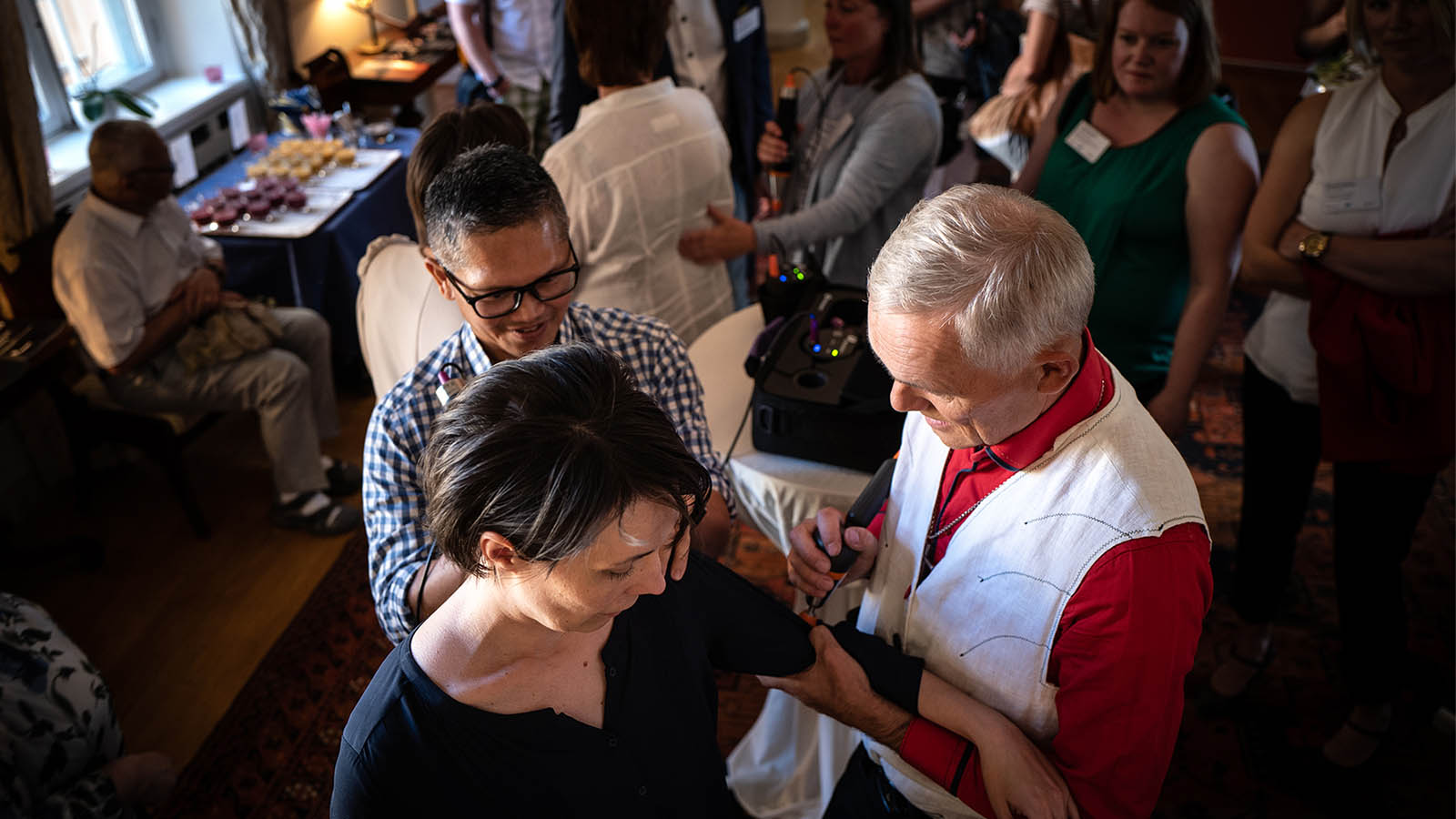 How do we look at information?
For us it is important that you feel safe in sharing your information with us. The first step to that we believe, is helping you understand how and why we gather information as well as what we do with it. We have therefore compiled this page to explain this in more detail – and to give you an overview of Atlasbalans information, sales and customer relations process.
Atlasbalans is a company offering products and services that we believe are of high quality. The way we look at marketing and sales, our goal is to present these products and services to people we believe would like them. We don't believe in pushing products and services, we believe in presenting them for people, and then let people decide if they want to do business with us or not. There are basically two ways we get in touch with people who might be interested in what we have to offer.
The first way is that you find us, for example via a recommendation from a friend or colleague, via a search or via social media. You then visit our website and sign up for more information about us and what we do.
The second way is that you see one of our marketing campaigns, for example on Facebook, in a paper or at an exhibition. If you like what you see, you fill out a contact form on our website, in our booth or at Facebook – requesting more information.
When you sign up for more information, our goal is to give you that information in the best possible way, knowing that life is complicated and that you might have many things requesting your attention. As long as we believe you are interested, we will therefore send you various reminders, for example via text message or by calling you. We also try to keep track of what information you like, so we can give you both information and occasional offers that are of interest to you. This is mainly done via something called cookies, which you can read more about below or in greater detail in our cookie guide. Cookies also help us gather data on how the website is performing, for example how easy or hard it is for people to find the information they are looking for – and this is really useful to know how to improve our site.
As we have thousands of people visiting our website and requesting information, we have a system in place to keep everything in order. That system is called Infusionsoft and it helps us send out different information to different people, based on their separate preferences. In there we have your contact details like email and phone number and your preferences, for example that you are interested in horse therapist education, fascia newsletter and not at all interested in events held in southern Sweden. And the great thing with having all information in one system is that we can delete all records with one click.
So, we gather data to give you the information that you are looking for as quickly as possible and to give you the best possible experience with us.
If you decide to do business with us, we gather billing information which makes the purchase possible. This information is of course highly sensitive and is kept on a need to know basis, which means that only the people specifically connected to the billing process and your sales process will be able to access this information.
If you want to know exactly what we know about you or if you want us to remove your data from our system, contact us on [email protected]. A more detailed version of how we deal with data is available here: atlasbalans.com/about/privacy-policy/full/
Cookies that are used to maintain basic functionality of the website, such as keeping a user logged in to a service when you go between pages.
Cookies are used to gather user data from the browser. For example how many users there are on the website, how the users are moving on the website and what information is consumed by users at different times. Cookies are also used to evaluate marketing activities and to see the result that different marketing activities have. In short; we want to give you what you want as effectively as possible.
Cookies and similar techniques are also used for marketing and advertising. For example, for us to be able to show the right information to the right people, to create a better experience for you as a user.
Basic cookies and examples of third party cookies that are used on the website:
Atlasbalans – we publish a couple of cookies that we use in order to adjust the communication to your needs to enhance your experience. The cookie tells us, for example, if you visit us for the first time or if you are a return visitor, a customer or if you have purchased any of our products or services before.
Google – cookies from Google are set to give us proper statistics and information about how our website is being ranked, used and viewed..
Facebook – cookies from Facebook are set so that you easily can share information you like with your friends.
Advertising networks – We use cookies for advertising, to be able to evaluate what the advertising is going to result in and for you as a user to get relevant information in our communication with you. Examples of advertising networks we use are Google Adwords and Facebook.
In different functions such as forms, we gather personal information. For example when signing up for our info pack, we save your name, email address, phone number and address. You can at any time ask to see your information, change it or ask us to delete it.
Handling of email broadcasts
We do different types of email broadcasts, advertising, invitations and other marketing activities. We also do email broadcasts which are directed to you, on your request. It may be in conjunction with you signing up for our info pack, interest list or wanting to get in touch with our sales team.
You can unsubscribe from this type of send out by contacting us or following the instructions which are located at the end of every Atlasbalans email.
Handling third party cookies
You as a user can use different services to handle third party cookies. www.ghostery.com is a tool where you can add your web browser and see which third party cookies that are used by the websites that you visit. Via the tool you can turn off individual third party cookies, note that if you turn off a cookie, all websites using that cookie will be affected and not only Atlasbalans affiliated websites.
Possible changes on the website will be published on this page.
VAT ID: SE556583891801
Email: [email protected]
Phone: 0046 10 195 90 90
Address: Bokvägen 17, 19141 Sollentuna, Sweden